Morse in the News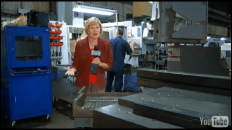 New York Senator Schumer: Jobs available, but CNY needs training
Originally published Sept. 22, 2014 on cnycentral.com
EAST SYRACUSE -- There is a large need going unfilled in Central New York. An estimated 2,800 manufacturing jobs will be coming to the area, but these jobs require skills that include mechanics, engineering and electronics.
Byrne Dairy is one of several Central New York companies that need employees to operate high-tech equipment in its milk processing plant.
"The jobs that are going unfilled because the people lack the skills, and the people who need the jobs," says Senator Chuck Schumer.
Besides Byrne Dairy, there are lots of other companies who need highly skilled workers, like Morse Manufacturing in Syracuse, which manufactures handling equipment for drums.
"It is challenging to find people with some manufacturing skills, machining work specifically," Nathan Andrews says.
To teach these skills, Onondaga Community College, along with other SUNY schools, are applying for a $15 million grant to install hands-on equipment, and teach the needed skills, as soon as possible
"The training could run anywhere from six months to two years because we're looking not only at the two year degree but also what people need to get trained in a shorter period of time, as long as they meet the employers' specifications," says OCC President Dr. Casey Crabill.
They should know whether they get the training grant in the next couple weeks.
# # #
Last Updated: 05/03/19