To stay and thrive in CNY, Morse Manufacturing Adapts to the Times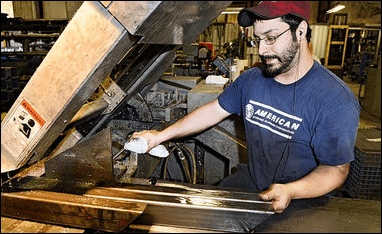 Workers at Morse Manufacturing cheered in 2007 when they learned Nathan Andrews had been appointed vice president.

"I didn't expect that." Andrews said on a summer afternoon five years later. President as of Jan. 1, he recognized that the reaction came from the relief that workers felt that his family was staying with the company.

"I may be able to retire from this place now," Andrews said, voicing the thoughts of one worker.

The third generation of his family to lead the 89-year-old company, Andrews, 37, recalled raking leaves at the East Syracuse plant as a youngster. Later, he and his brother, Brian, used their training in computer-aided design during summer jobs at the maker of drum-handling equipment.
Also known as barrels, drums are a fixture at industrial plants, garages and other facilities around the world. Morse makes the hand-trucks, lifts, straps, fork-lift attachments, tilters, hoists, holders, brackets and other items that let workers move, fill, empty and ship barrels. Morse sells around the world through distributors and makes all its products at the 35,000-square-foot plant in East Syracuse.

Nobody else would do that, said Robert Andrews, 71, chairman and owner of the company. Had his son not stepped forward, he might have had to sell the company to investors. "They would say, "Why are you manufacturing here?"," he said. The work would have moved down South, or more likely to China. And all these people would be out of jobs."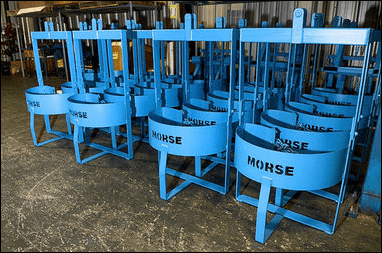 Instead, the Andrews family focused on competing with China by adopting lean manufacturing. Robert Andrews assigned that task to his son. "I didn't have the time or desire to push the lean," he said.

So Nathan Andrews pushed. The shop moved away from mass-producing pieces that could be made much more cheaply in China and focused on specialty items where the company's strengths in design and certification were valuable.

All Morse products are tested and certified at the factory [see load test video], 727 W. Manlius St., East Syracuse, Nathan Andrews said. Around the plant are testing rigs where hoists are weighted down to 125 percent of the stated limit.
Ventilation equipment carries fumes away from welding and grinding stations. Workers wear full protective gear, including welding masks that bring in cooled fresh air.

Morse can make equipment from spark-resistant metal if that's what the customer needs or from stainless steel if the customer is in the pharmaceutical or food business. While nearly all Morse products are painted a distinct "Morse blue," they can be had in food-service white.

They've developed equipment to handle five-gallon pails as well.

The company will design and build a single specialty item for a customer, if that's what is needed.

"That's worked for us," Nathan Andrews said. Sales hit a record in 2011. Nathan Andrews said 30 percent of all Morse products end up being used overseas, including in China.

The company stuck with the plan through the depths of the recession. Machinery was updated and processes streamlined.

Most importantly, no one was laid off, the two men said. There are 40 full-time workers at Morse, and when things slowed down, the company kept them working full time.

"We did everything we could to take each of the employees and keep them going 40 hours a week," Robert Andrews said. They put in new racks to hold stock and even painted the roof, whatever it took even though the company was struggling financially.

"Employees are so thankful they were not laid off," he said.

Morse employees are working overtime now, Nathan Andrews said. Thanks to what the company did during the recession, "we've got the labor force in place."

"We're a family-owned business," he said. "They're a part."

Robert Andrews has been an active part of the manufacturing community as well, a member of the Manufacturers Association of Central New York for more than 30 years and a board member for about 20.

MACNY President Randy Wolken noted that Robert Andrews frequently hosted tours at his plant and spoke frequently with other manufacturers when they had issues on which he could help.

Relaxed in a fishing shirt, Robert Andrews recalled the challenges he faced when he first joined his father, Ralph Andrews, at Morse in the late 1960s. The Teamsters had organized some of the 18 workers at the plant, and his father did not like that. He assigned Robert Andrews to deal with it.

So, Robert Andrews recalled, he talked to workers. It was against all the advice he was getting, but he met with workers and talked about the company. In 1973, the workers voted to decertify the union.

"The only thing they wanted was more money, and the union didn't get them that," he recalled.

His ability to win workers over was key to his father. "Through that, I proved to him I loved the business," Robert Andrews said.

Thirty-four years later, he handed the reins to his own son.

"He believes I'm capable of doing the job," Nathan Andrews said of his father. "He's willing to let me do the job."