East Syracuse's Morse Manufacturing Seeks Customers Worldwide
March 2007
By Charley Hannagan and printed in The Post Standard
How do you know your product is a hit in the international marketplace?
When a request for information written in Icelandic lands in your company's e-mail inbox.
The Icelandic message arrived at Morse Manufacturing Co., a 36-employee company in East Syracuse that makes drum handling equipment.
Some small companies hit the delete button when they receive those kinds of international e-mails, said Robert I. Trachtenberg, president of the
Central New York Technology Development Organization (TDO)
. Smart companies, however, see them as an opportunity to sell into the international market, he said.
"All business is international business. If you're not thinking about it, your competitors are," Trachtenberg said.
Over the past five years, Morse's international sales have produced double-digit sales growth and a new way of doing business, said Nate Andrews, the company's sales engineer and son of its president.
"Other companies are not willing to go through the hoops and as a result they won't reap the sales," he said.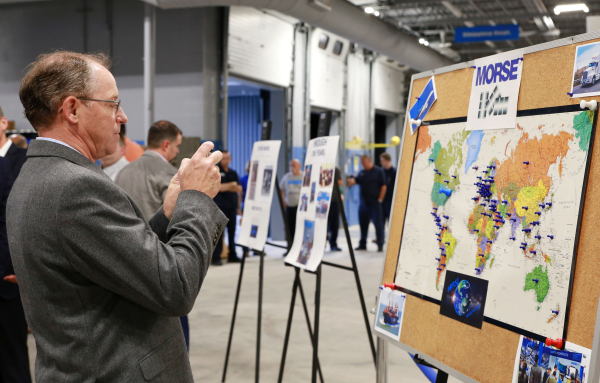 A decade ago, Morse, like many manufacturers, focused on beating the competition in the United States rather selling to the international market, said Robert Andrews, president of the family-owned company.

Even as it took steps to become more competitive domestically, Morse saw cheap foreign imports cut into its market and more of its customers move offshore.

Then Morse turned over its modest Web page design to Ralph Phillips, its marketing representative.

Type in the term "drum handling equipment" in the Google search engine, and Morse Manufacturing's site comes up first on the non-sponsored links on the page.

Morse's page is packed with information, downloads and videos with voiceovers by Phillips about the company's products. Maintaining the website is a top priority so that the content doesn't grow stale and competitors take over that coveted top spot, Phillips said.

Smaller companies who sell into an international market face some challenges, but none that can't be overcome, Trachtenberg said.

For example, whenever an e-mail written in a foreign language arrives, Phillips seeks an online translator to decipher the message. That's how the company deciphered the one from Iceland enough to know what the customer wanted. It later found a dealer in that country willing to distribute its products, Phillips said.

Morse would rather have dealer handle its products because they know the language and culture of their countries, Phillips said. An Italian dealer is working with the company to provide video voiceovers in Italian on its website, he said.

The company has over 2,000 dealers worldwide that sell its products. It doesn't sell direct to customers in the United States because it prefers to sell to dealers who better know customer needs, said Sales Manager Charlie Lighthipe.

Foreign customers also are sent to dealers, if one is located in their area. If there's not a dealer nearby, they can order directly from the company, he said.

That's where the next challenge comes in. Both sides must trust each other in international transactions, Lighthipe said. Morse doesn't send its products

and then bill for them because it doesn't know what recourse it would have should a customer fail to pay, he said.

The company asks for payment up front before delivery, and customers must trust that the company will deliver the goods, Lighthipe said.

"The key ingredient for the is trust," he said. "The first transaction they have to take it on faith."

The company sends the six or seven foreign sales it had weekly through freight forwarders who take care of any paperwork and send the goods to a port. It's up to the customer to pay any custom fees or duties and to transport it from there to the customer's plant, Lighthipe said.

Morse also must be aware of any local regulations, such as electrical testing to meet European Union standards or a recently rescinded certification needed for sales to China that wood used in shipping was insect-free.

There are state and federal resources available to help small companies deal with the paperwork that goes with selling overseas, Trachtenberg said. The Central New York Technology Development Organization offers classes in exporting, he said.