Drum Spotter
Morse Drum Spotter / Drum Palletizer moves drum to and from pallets
---
Key features
Designed for use with a rimmed plastic, steel or fiber drum
Drum can be 22" to 23.5" (56 to 60 cm) in diameter UNDER drum rim, and 34" to 36" (86 to 92 cm) tall
Closed 55-gallon (210 liter) steel tight-head or removable top drum
Many popular 55-gallon (210 liter) plastic drums
Many fiber drums with clamp-on lids
800 Lb. (363 kg) Capacity
Maximum pallet height: 6" (15 cm)
Built-in counterweight for stability
Simple to operate
Moves easily on two 6" (15 cm) polyolefin wheels at front, and two 4" (10 cm) rear swivel casters for easy steering
Ships in two parts to reduce freight cost
---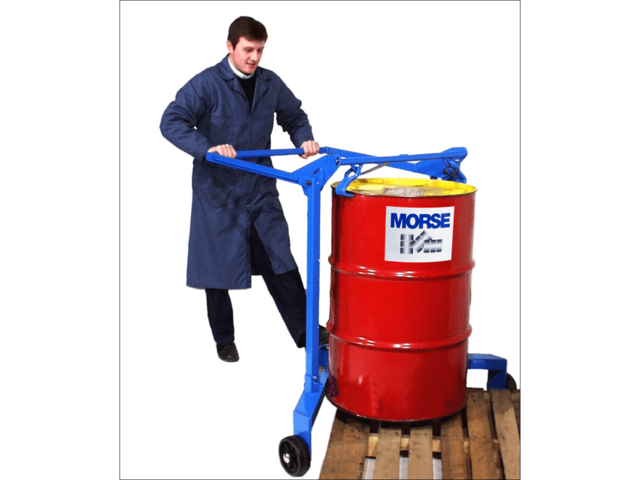 The Morse Model 81 Drum Spotter / Drum Palletizer moves your drum to and from pallets. This innovative drum handler is designed to easily move a rimmed 55-gallon (210 liter) drum onto and off pallets up to 6" (15 cm) high.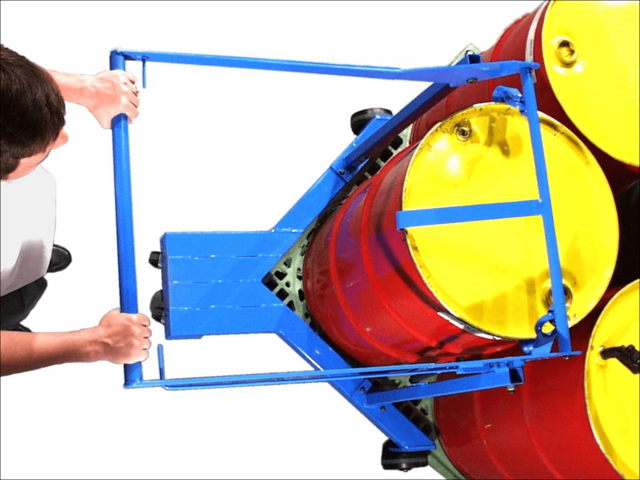 Model 81 Drum Spotters are designed for use with a rimmed steel, plastic or fiber drum which is 22" to 23.5" (56 to 60 cm) in diameter UNDER the drum rim, and 34" to 36" (86 to 92 cm) tall. Model 81 accepts a closed 55-gallon (210 liter) steel tight-head or removable-top drum, many popular 55-gallon plastic drums, and many fiber drums with clamp-on lids. The maximum pallet height is 6" (15 cm) for use with Model 81.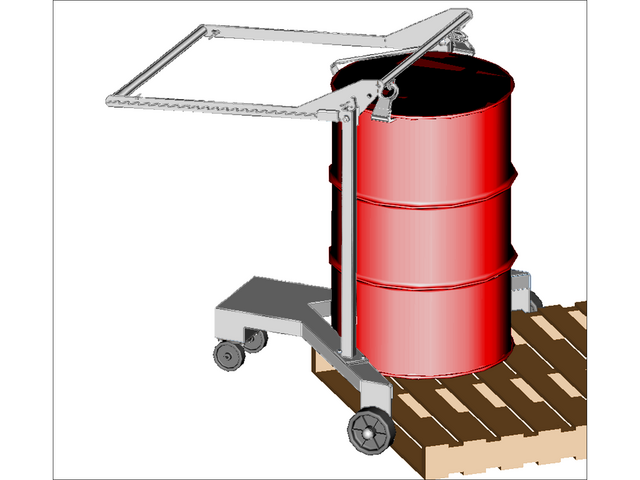 Model 81-SS Stainless Steel Drum Spotter, and Model # 81M Drum Spotter with Spark-Resistant Parts are also available.
Morse Drum Spotters are simple to operate
Roll the Drum Spotter / Drum Palletizer to your drum
Lift handle so hooks engage below the drum rim
Lower handle to raise drum. Length of handle provides leverage to lift heavy drum
Once drum is raised, ratchets maintain handle position
Drum stays upright to wheel away
Base has built-in counterweight for stability
Transport drum to place on pallet or on floor
Moves easily on two 6" (15 cm) polyolefin wheels at front, and two 4" (10 cm) rear swivel casters for easy steering
Capacity: 800 Lb. (363 kg)
Drum Spotter / Drum Palletizer Dimensions
Height with handle raised 74.25" (189 cm)
Height with handle down 47.25" (120 cm)
Length with handle horizontal 43.25" (110 cm)
Base width: 48.5" (123 cm) O. D., 41.5" (105 cm) I. D.
Base length: 32.25" (82 cm)
Model Chart
California Proposition 65 Information
---

WARNING:
This product can expose you to chemicals including barium sulfate, cobalt, titanium dioxide, and 2-methylimidazole, which are known to the State of California to cause cancer, and bisphenol-A, which is known to the State of California to cause birth defects or other reproductive harm.
For more information go to
www.P65Warnings.ca.gov