Morse Green Battery Option # GB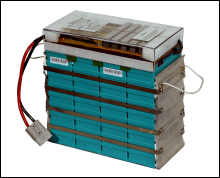 Environmentally friendly Lithium Iron Phosphate Rechargeable Battery - No harmful gas or acid leaks and spills
Lighter than conventional lead-acid battery
Up to 2000 cycles, providing up to 8 times longer cycle life than lead-acid battery
No maintenance - Store up to 1 year without recharge
Typical design life of 5 years
Environmentally friendly battery contains no poisonous lead, no acid, and does not create gasses during charge, which regular lead-acid batteries do. Compared to lead-acid, green battery is super light, has much lower self-discharge, and does not sulfate.
The Lithium Iron Phosphate Rechargeable 12.8V 100Ah Battery is made of four 3.2V 100Ah pieces with aluminum panel, nylon handle and plastic cover on the top.
Morse Green Battery Option includes a CE listed smart charger (10 A) for 12.8V Battery Pack suitable for use worldwide.
Use Option "GB" (Green Battery) to replace the standard lead-acid on many Morse drum handlers with battery-powered lift and/or tilt.
Battery dimensions: 11.2" x 5.1" x 11.1" (28.5 x 13 x 28.s cm)
Battery weight: 29.8 Lb. (13.5 kg)