Morse Meets with Many Dealers at PROMAT 2015
Trade Show in Chicago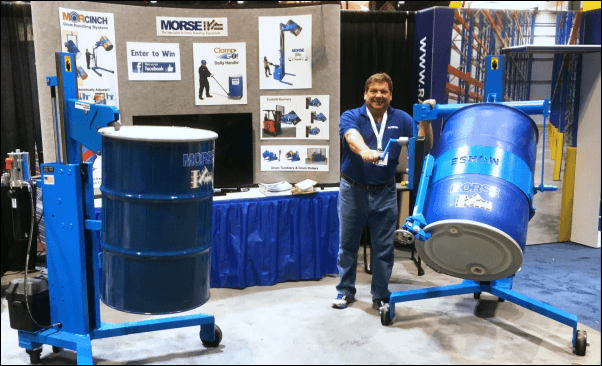 Morse Exhibits Drum Handling Equipment at PROMAT 2015 the Largest Material Handling Trade Show in North America
What We Love About PROMAT
Face-to-face time with our great dealers!
Showing off what we make
Great sights if Chicago
Deep dish pizza
Unexpected Downside...
...SNOW! Really There's too much of that at home.
We set up our booth on the weekend, and poised to greet the masses the next day. Monday morning hit with an unusual late March snow storm that snarled traffic and delayed many travelers' arrival at PROMAT. It made us New Yorkers feel right at home... whether we wanted to or not. None the less, it was a busy morning at the show! Many of our long-time friends and dealers visited us. It's also good to put faces to the names we see in emails and to the voices we've heard so often on the phone.
Tuesday produced the busiest day Morse has ever experienced at a trade show! We were stretched to engage with all the people visiting our booth. In fact, PROMAT drew over 37,000 attendees this year, the busiest since the 2008 recession, and an 8.8% increase compared to 2013. Visitors came from 115 countries.
Morse was a joint sponsor of a luncheon at PROMAT along with four other manufacturers to promote quality material handling products made in the U.S.A. We've all seen competition from abroad, and manufacturing off-shored with questionable impact on industry and communities here at home. These companies thrive in the U.S.A. by adhering to core principles for long-term success. We each strive to be a vital component of our local economies.
Great new products were exhibited at PROMAT to improve productivity, safety and ergonomics. Improved safety has become a focus for our industry. Today's customers demand the best and safest equipment for their people. To meet these expectations, material handling equipment must be designed from the ground up to perform well, meet industry standards, and keep everyone safe.
With this in mind, Morse exhibited the new Drum Palletizer with Hand Crank Geared Tilt, a Drum Mover / Palleter, and a Stainless Steel Drum Truck.
Thanks to all who entered to win a FitBit by liking the Morse facebook page during PROMAT. Congratulations to the winners: Alexis of Stewart Handling Systems and Jack from Casters of Oklahoma.
In this expanding economy with increasing demand, one of the greatest challenges has become finding and retaining skilled employees. Morse benefits greatly from a workforce with average experience of over 15 years. We genuinely care about the people who work with us, and want to empower them. We want them to develop as individuals and as employees. We increasingly need a workforce that can work with new technologies and equipment. Morse is a success because of its employees.
We're already making plans for MODEX in Atlanta next year.
Morse models at PROMAT 2015 Booth