Morse receives award from CenterState CEO
as 2014 Business of the Year for companies under 50 employees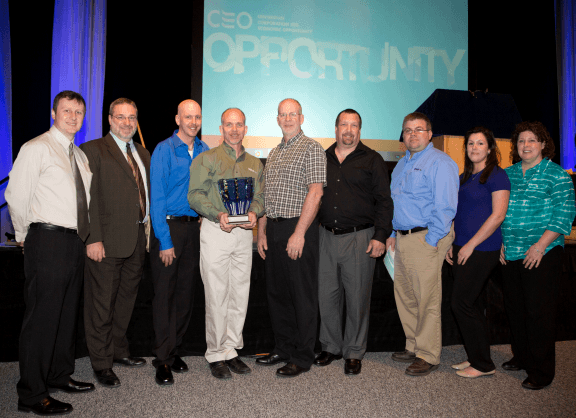 Pete Mangovski, Ralph Phillips, Art Gacek, Bob Mozo, Mark Mozo, Steve McDonald, Ross Horn,
Nichole Baraniewicz and Maureen Pelletier
Morse employees accept the 2014 award for "Business of the Year" of under 50 employees from
CenterState CEO (Central New York Corporation for Economic Opportunity).
At its annual meeting, CenterState CEO announced Morse Manufacturing as its "Business of the Year"
award recipient for companies of less than 50 employees. The meeting was attended by over 1,000
local business leaders and politicians. Each year this honor is awarded to a local company based on
criteria including quality of products and services, innovation, customer satisfaction and community
involvement.
Morse employees serve on board positions at local organizations including CenterState CEO, MACNY,
Syracuse Salvation Army, Boy Scouts of America Longhouse Council. Morse employees are far and away
the company's greatest asset; providing unparalleled product quality and selection, all while manufacturing
everything in East Syracuse, NY. Morse's average employee tenure is approximately 15 years.
To learn more about the Morse drum handling equipment, click here
See other Morse Drum Handling Videos