310 Series Tilt-To-Load Drum Tumblers
Ergonomic POWER-LIFT and vigorous "corner-over-corner" mix inside drum. NO need to open drum... NO Mess... NO contamination. Vary drum rotation speed for thorough tumbling action! Blend valuable ingredients. Save Time, Labor and Money!
---
Key features
Rotate a plastic, steel or fiber 30 to 55 gallon (114 to 210 liter) drum
Blend inside a closed drum to ensure homogeneous, uniform batches
Remix valuable settled or stratified ingredients
Smooth rough parts by tumbling with media
Load upright drum at floor level with drum truck, model 81 Drum Spotter, or a below-hook drum lifter and your hoist
Rotate drum from 5 to 20 RPM (4 to 16 RPM for 50Hz models)
IMPORTANT: OSHA requires enclosure with interlock
Control Package and Guard Enclosure each sold separately
---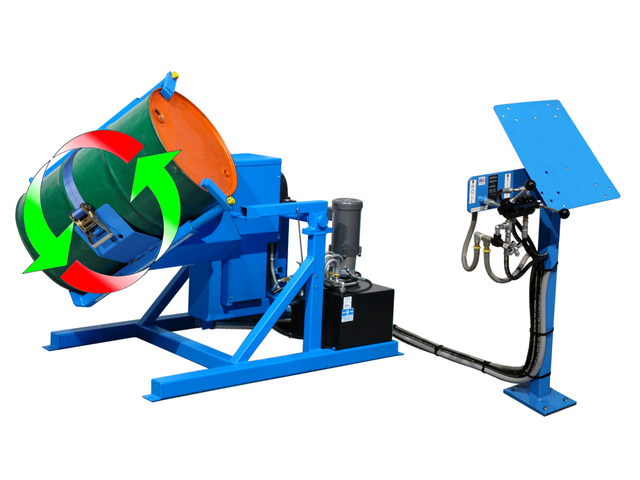 Morse 310 Series Tilt-to-Load Drum Tumblers rotate a closed drum "corner-over-corner" to thoroughly mix the contents. Morse Tumblers are used to ensure homogeneous and uniform batches, remix valuable settled or stratified ingredients, or smooth rough parts by tumbling with media.

310 Series models rotate a drum from 5 to 20 RPM (4 to 16 RPM for 50Hz models). Motors are 2 HP. Model 310-A is air-powered, and includes air controls.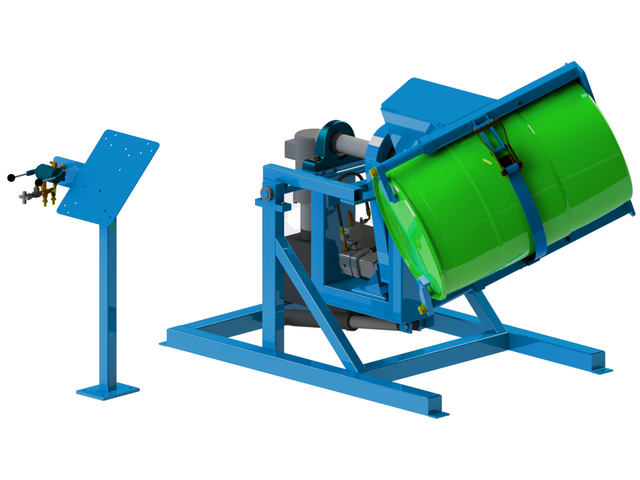 310 Series Drum Tumblers can accommodate a steel, plastic or fiber drum 29" to 37" (74 to 94 cm) tall, 18" to 23.5" (46 to 60 cm) in diameter, from 55-gallon (210 liter) down to 30-gallon (114 liter).

Drum Tumbler shown mixing a plastic drum.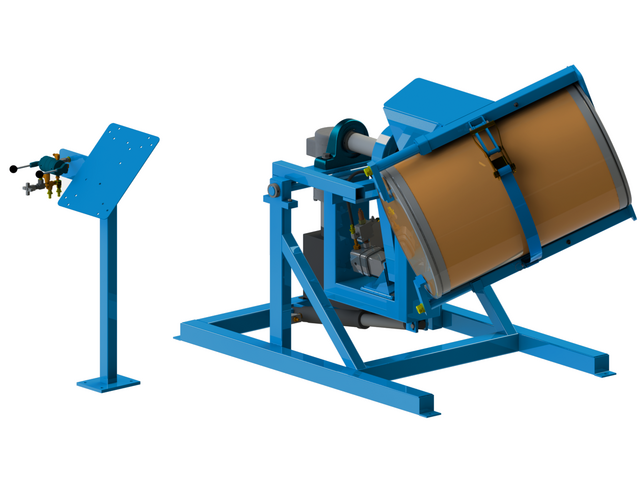 Tilt-to-Load Drum Tumbler mixing contants of a fiber drum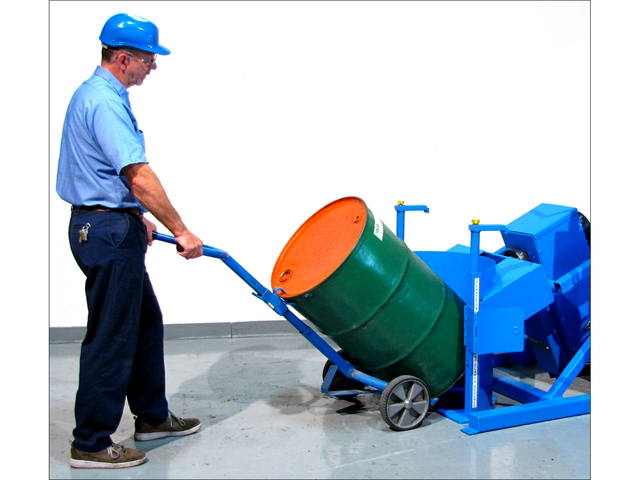 One can quickly load an upright drum onto the base plate of a Tilt-To-Load Drum Rotator at floor level with model 81 Drum Spotter...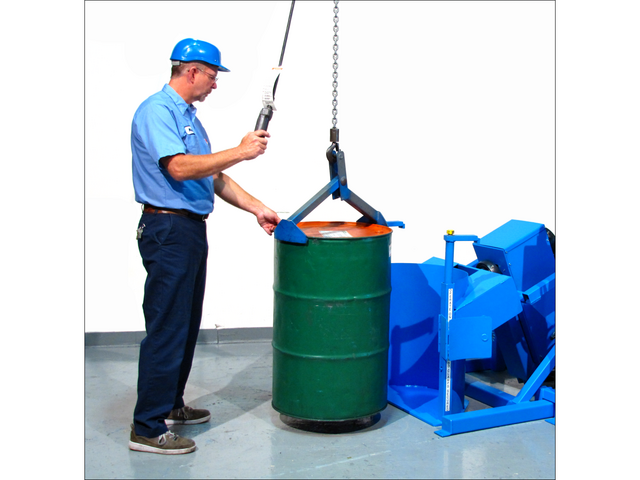 ...or with a below-hook drum lifter and your hoist or crane. Secure your drum in holder using the polyester web strap and ratchet around drum, and two clamps on top of the drum.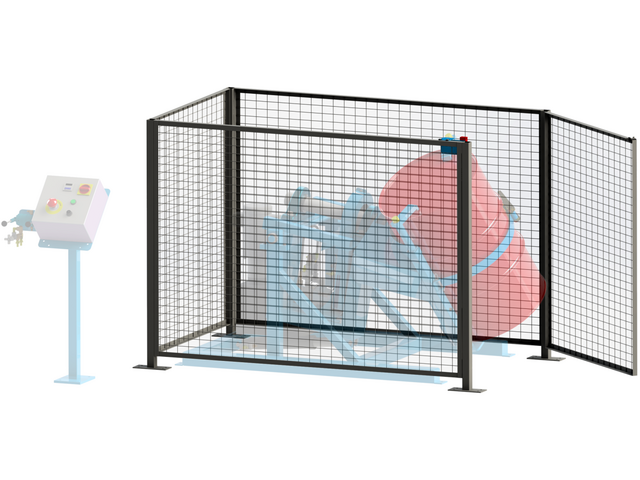 The ergonomic power tilt control raises the drum to rotating position. Turn the motor on to activate drum tumbler hydraulics. Tilt the drum to top position with the RAISE control valve. Use the second control to start and stop drum tumbling. Begin drum rotation with the ROTATE control valve.
Combine three components to meet safety requirements:
Drum Tumbler
Control Package (sold separately)
Guard Enclosure Kit (sold separately)
OSHA requires a guard enclosure with safety interlock, so that the rotator will automatically stop running if the enclosure gate is opened
IMPORTANT: OSHA holds the employer responsible for the suitability of design and application of tools and machinery.
Install all Morse Rotators in accordance with requirements for enclosure and safety interlock, etc. One way to accomplish this is with a Morse enclosure with safety interlock, so the rotator automatically turns off when enclosure door is opened. Power connections and motor controls must also comply with applicable local codes.

For OSHA compliance in the USA, see OSHA subpart O.1910.212(a)(4) "Barrels, containers, and drums. Revolving drums, barrels, and containers shall be guarded by an enclosure which is interlocked with the drive mechanism, so that the barrel, drum, or container cannot revolve unless the guard enclosure is in place."

NEMA 4/12 Control Box includes Timer, Start and Stop Buttons, Red Emergency Stop Button, Lockable Main Disconnect, and Wire terminals for safety interlock switch. NEMA 7/9 Explosion-Proof Control Box includes Start and Stop Buttons, and wire terminals for external connection of safety interlock switch.

Only NON-Explosion Proof AC Control Packages include a pre-wired control box. Explosion-Proof Control Packages have no wiring from the NEMA 7/9 control box to the motor. Please consult an electrician to complete the wiring in accordance to your local code.

Explosion-Proof motors are rated for Class I Group D, and Class II Groups F & G.

Air powered model 310-A requires plant air at 50 to 60 PSI and flowing at a rate of 60 SCFM. Filter, Regulator, Lubricator and Valve are included with model 310-A.
Model Chart
What features do you need?
California Proposition 65 Information
---

WARNING:
This product can expose you to chemicals including barium sulfate, cobalt, titanium dioxide, and 2-methylimidazole, which are known to the State of California to cause cancer, and bisphenol-A, which is known to the State of California to cause birth defects or other reproductive harm.
For more information go to
www.P65Warnings.ca.gov